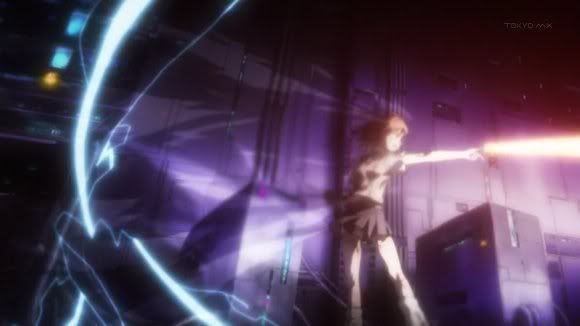 So Railgun's finale manages to be a pretty darn good blast of a ride – but also, simultaneously and rather oddly, a little bit of a tragedy. The final episodes managed to deliver quite well on the emotional tension, intrigue, and of course the sheer electricity one would expect of the finale of a show like Railgun. Absolutely a thrilling ride, but at the very end of it, casting our sights back over the entirety of the series, one cannot help but feel like we've been here before, that significant parts of the adventure we just went through bore unmistakable echoes of the series' midpoint. I had been very happy to learn that level upper wasn't the end, and in my opinion the episodes that followed it really weren't bad at all. They were just nothing more, you didn't feel like they really added value to the series – especially when a sizable chunk of them is spent on side characters who, though interesting, really didn't matter too much when we got back to the grander scheme of things around the time of the finale. Outshining level-upper is a formidable task that the finale expectedly fumbled at, and as much as I am thankful for Railgun's continued presence throughout this relatively dry winter season, a small part of me cannot help wishing, for it's own sake, that Railgun had gracefully drawn the curtains in the wake of episode 12.
Even with all that said, though, the finale was one heck of a ride.


Just to make things clear on the outset, my infatuative fanboyism for Kana Hanazawa-voiced Haruue had cleanly fallen off as it swiftly became apparent that she was being positioned as a catalyst for character conflict, as well as damsel in distress. It would have been nice to have her around during "times of peace", but in dire situations like these the people that really need to shine (and do) are our main four.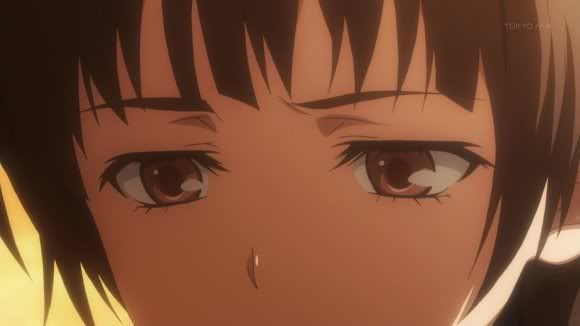 It feels like JC Staff is taking quite a bit of liberty with the portrayal of the four, especially with Uiharu's uncharacteristic anger and over-protectiveness. It is also true though that the first half of series have had the characters well-developed enough for them to have some license to play around with their interactions, and JC Staff didn't push it too far. Just enough to create interesting conflict – and to ultimately give this scene the lovely glow it needs:
Quite possibly my favorite moment in the arc. "What do your eyes see now?". Excellent call. There are a tonne of important things we could miss that we wouldn't if we only took a step back and looked, as Mikoto discovered. I loved how it was Saten who ultimately stood up to the distraught Mikoto. The events leading up to this point must have been especially hard on her – she had evidently put some difficult distance between herself and Uiharu when she had to yell her down for being unfair to Kuroko. But even with tensions between the four at all time high she found it in herself to do what the others couldn't – stand up to the Level 5, with whom she had understandably never quite been comfortable.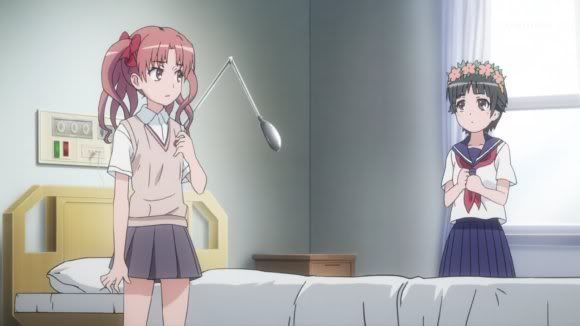 She went on to smoothly carry the momentum over to Uiharu and Kuroko's strained relationship, and as they murmured their apologies it feels like a great uncomfortable rift has at long last been mended again, and the four is at long last restored to the fond friendship we have always known them for – much, I'm sure, to Saten's own thankful relief. Thinking back on how she had quietly withered in the agony of her own problems during level-upper, this really shows how much she has since developed as a character, though it's really something of a pity that she still does not have any abilities.
Oh, and I was pretty darn glad Kongou Mitsuko got herself some sincere gratitude at last! And that brings me to the one thing unique in this arc that I really digged.
YEAAAA! You go girl :D I never cared much about her in the first half of the show, but she had taken so much abuse by now that I, like Keiri, had begun subconsciously wishing that she'd also get her time to shine – especially since she's really not a bad person at all. I was pretty happy at this point:
Kongou Mitsuko literally saves the day here! Never mind that we never saw how she did it, I thought, it's great that JC Staff finally affirmed her as a good and responsible person despite her ridiculous personality. But hell I sure never expected that we'd get to see this as well:
Bad-assery! I had been hoping (thanks to the OP's constant tease) for a well choreographed Kuroko-Misaka team battle at some point, but this completely works too! It's great to see Kuroko and Mitsuko put down their differences for once – and how well they end up complementing each other when they actually do.
Come to think of it, it seems like JC Staff really pulled out all the stops on this arc. Who'd expect both Uiharu and Mitsuko's powers to be revealed in an anime original?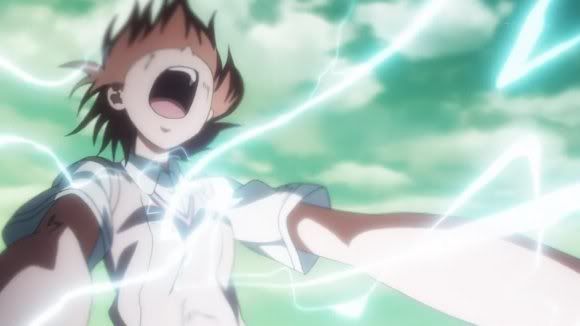 And of course, when Biribiri wants to be bad-ass, she sure looks (and sounds!) bad-ass. Having Kuroko warp in at the last minute to smoothly supply the bullet for Misaka's waiting railgun was a nice touch, and really shows something of the chemistry between the two. I wish we could have seen more of this. Still, lots of great Level-5 action there, and I gotta say, Rina Satou shines best as Mikoto when she has to be bad-ass awesome. There's something about Mikoto's ringing challenges and her arcs of potently crackling bolts that really quickens the heart, and of course Level 5 Judgelight and Only My Railgun blasting gloriously behind only added to the effect.
Underneath the bad-assery though, it didn't feel like Misaka was as central to this finale as she was to level-upper's. Sure, she delivered the obligatory final blow on mad-woman Telestina's weird machine-bolt, but really, unlike last time where relatively unexpected key parts of her personality (and powers!) were brought to light, we don't really get anything at all this time round.
It was still a moving end though. For me this is a show that thrives on relationships. Uiharu to Haruue, Misaka to Kuroko and Saten to Uiharu, the four to Kiyama, Kiyama to her students. And it is in the joy of seeing these relationship bear fruit that this series really shines. I'm actually a little sorry that we're finished already at this point. An episode or two more of quiet plot resolution, with some more interactions between Kiyama and her now-revived students, would have been a nice touch. Maybe we'll get an omake or an OVA?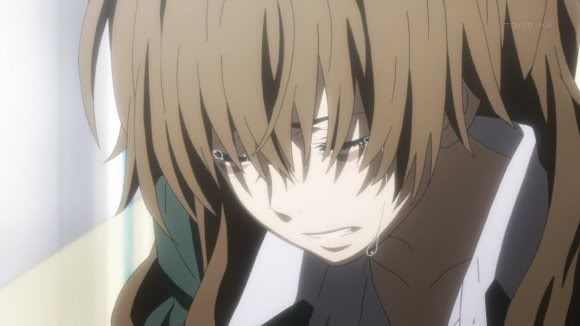 Still, while almost everyone important had something precious restored to them, the profoundness of what was achieved at the end for Kiyama could hardly be overstated. How many of us have born such a terrible burden, and lived to see it lifted? How many of us have so tirelessly and earnestly struggled towards a cherished goal, and lived to see it attained? How many of us have found a cause to devote our entire soul to, and how many of us, have had a dream come true?