So all this jumble of talk on Apple's latest gadget-child has been buzzing around the fringes of my consciousness for a good while now without me stopping to pay attention and actually seeing what all the hype is about. After all, I was (and still am) pretty convinced that I am simply not going to get an iPad. And then today, feeling somewhat unable to work, I decided out of curiosity to finally bring up Mr Job's little keynote in which he introduced the iPad, and gave it a watch-over.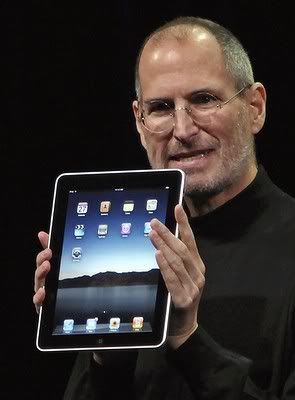 And damn, I gotta say. Apple really has this one nailed.

It sounds ridiculous at first, at least to me it did. Why in blazes would I want to lug around something so awkwardly and awfully huge (compared to a regular mobile device) that doesn't pack half the power I get with a regular laptop? However, watching that video, I realized for the first time how much I had overestimated the girth of the thing from all the front-view photos I've seen. The iPad is really thin. And you know what's more? It's sized and shaped like a book. Or a photo-album, or a magazine, or a picture frame. Looking at Jobs fiddle with the device as he sat on the couch, I realized that the iPad is not something you bring with you on your work day that keeps you in touch – it is not a 'phone' or an 'organizer', nor is it something you put on a table to furiously get documents written, software developed, or work done – it is not a 'desk'. The darn thing is a book. Something you sit down with at the end of the day to read, or to pass around a table of friends and family. A book whose content easily and naturally spans gigabytes of stored pictures as well as the entirety of the wide Internet, that nonetheless sits demurely on your lap as a light and smooth, hand-friendly, wireless little board.
Jobs is right, you can't do that with a laptop nor a mobile device. Not quite like you could with an iPad.
And this is when the ingenuity of the whole thing struck me. Not only has Apple managed to pry it's feelers deep into the awkward space between the laptop and the mobile and actually drag out a relevant problem. They have cast the problem and solved it in a way that maximizes their strongest competencies. The iPad looks and feels the way it does because Apple has a developed reputation as a hardware-design perfectionist. You know what else it has a strong reputation for? User interfaces and software that are – yes, prescribed and yes, dictated – but sexy and fool-proof.
The diabolical beauty of it is that nobody in their right mind will get an iPad if they needed more advanced functionality – iPad is something you only acquire expressly for simple computing/surfing/entertainment needs. So you can't even blame Apple for putting you in a pretty little walled garden.
Put in another way, the use-cases the iPad is designed for is so Apple-centric that no one else is probably gonna be able to quite build 'another iPad' for awhile.
And where does all this leave us? Apple has taken an uncannily powerful lead, in mindshare if not in sales, as we begin striding our way into the age of smartphones / smart-small-devices. I won't deny that this unsettles me greatly. As a fervent user of a "non-standard" and "arcane" desktop platform (yes, that's what Linux is where I live), I have suffered heartily under Microsoft's long reign, and given the recent events I have a feeling that things won't be any better (it may even be worse) under an Apple rule.
I guess the simple conclusion is that we (free software) gotta buck up. Hope still remains, of course, for the landscapes of the budding mobile age to be defined by freedom, choice and interoperability. But we're gonna have to build some pretty amazing devices and software/interfaces to get there. Frankly, things look a little sticky and grim at the moment with all the ridiculous patenting and lawsuiting going around in the smartphone space. But I do hope. And it is because I believe KDE will eventually find itself somewhere along the front-lines of that hope, that contributing to KDE, however minute and hit-and-miss my efforts be, remains one of the few things I do that I can truly ascribe meaning and purpose to.
If only said meaning and purpose translated to more spare time and hence actual useful work :(