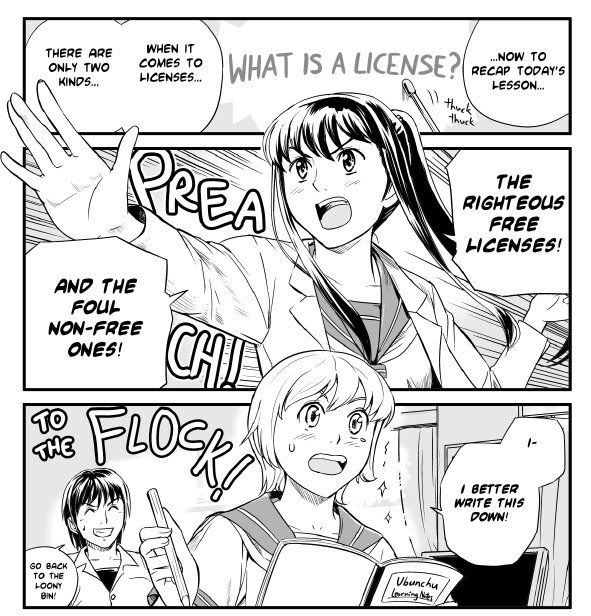 (EDIT: For the uninitiated, Ubunchu is a free-licensed manga series thematically centered around Ubuntu Linux, and this is a review of the fourth chapter of said series cum my musings on the viability of free licenses when applied to artwork. I apologize if I have previously confused anyone by leaving out this introduction :( )
(EDIT: I can't believe I forgot the link to the manga again!! You can find every translated chapter of the free-licensed Ubuntu-oriented manga here)
With every chapter so far thematically alluding to one Ubuntu / free software related idea or another, Ubunchu is starting to feel somewhat like a documentary. Reminds me of one of those "Manga guide to Databases" things. And that's not a bad thing by the way :P

Anyway, this chapter is about free licenses. As usual we have a simple story involving our three main characters woven around the idea being introduced. The story is nothing noteworthy and can be leisurely consumed as lightweight entertainment, but I think Ubunchu has brought up something rather interesting this chapter. Free licenses are no foreign concept in the world of software, and free software has more than proven itself in the past decade or so. However when applied to broader realms, like artwork as in this chapter, things are a little more muddled.
Does it make sense to apply free licenses to artwork?

The question is much more grey than it is with source code. It is still philosophically appealing, of course, to think of works of art as celebrations of humanity that should be freely shared, admired without restrictions, and collaborated upon where possible. But, as Akane notes, "It's Risa's hard work, you know.". Being products of talent, inspiration and hard work, it's natural to wish to maintain a kind of ownership over it. Especially with the amount of plagiarism and theft of work going on nowadays. One could argue that this is to a certain degree the case with software as well, but with software the benefits of releasing your code is clearer. Source code is much more malleable than artwork is, and a shared, community developed piece of code can clearly be leaps and bounds better and more powerful than a piece of code maintained by even the most brilliant of programmers. It's hard to argue the same case with artwork.
I did find the following conversation interesting though: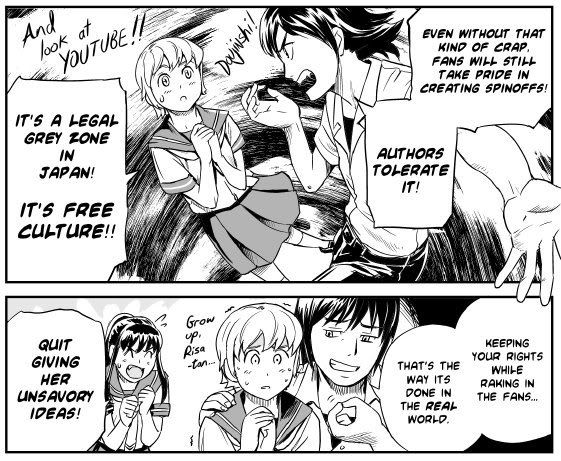 And not just for the perverse pleasure of watching Risa getting terrorised :) What's noteworthy here is that Masato is right! Japanese otaku subculture is, unwillingly and unwittingly, the closest thing we can find today to a culture of freedom involving artistic works. And you know what's interesting? It's thriving – somewhat at the expense of the actual industrial players, but there is little doubt that the subculture itself is today as resilient, diversified, and far-reaching as can be. It isn't coincidence or luck too. Why is anime a culture when Holiwood isn't? When you trace it down to the ground the only reason anime cons are possible today is that you don't need to ask permission or pay royalties for dressing up as characters of a copyrighted work, for singing copyrighted songs, and for displaying and selling blatant (but excellently done!) spinoff artwork and stories. The only reason I can adorn my wallpaper and this blog with tributary decorations to my favourite animes is because doujin and vector wallpaper artists aren't being regularly persecuted. In fact the only reason we unenlightened gaijins are even able to regularly talk about the latest shows and manga chapters is because of the hard work of our faithful, legally dubious (but fantastic!) fansub/scanlation groups. Japan's inability to keep a legal iron fist over the consumers of the industry has ironically empowered the subculture to spread freely across every nook and cranny of the world that the internet is able to reach. It has also allowed the culture to scale beyond the professional works themselves into a wildly diverse pool of literature, fan-works and spin-offs of jaw-dropping quality. And all these, offsprings of the subculture and the freedom that permits their existence, in turn contribute to the color and captivity of the culture itself, taking it further, bringing in more consumers, more contributors.
When you look at it like that, it's almost just like what happened with free software. Could it be?
It's still a push to make that claim of course, especially since we know that the heart of the otaku subculture – the producing industry itself, is falling on hard times, being unable to quite adapt to the free nature of the culture. The challenge would probably be to see if a critical group of companies – then again they may not need to be companies, organisations – is able to sustain itself while riding the currents of freedom. To some extent the industry is already adapting – leveraging the doujin/niko-niko culture to identify and poach promising artists whose works they could publish and sell. The story of Supercell in particular impresses and inspires me. It'll be interesting to see where this goes :)
And oh shit, I went completely off tangent with the review – AGAIN. Well, I guess I don't really have too much more to say about the chapter (unless you want to hear me RAGE about lack of Slackware-Infatuated, CLI-wielding Geek Tsundere-chan action!).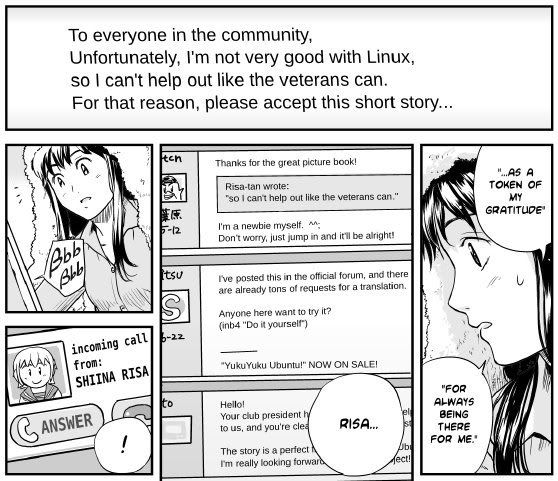 Nice that Risa decided to go through with releasing her work after all of that. It can get ugly, but it could also prove very rewarding. Especially in communities like Linux's where people tend to appreciate their allies more ;)
Wonder when the next chapter will be out, and what the next item in the documentary will be. Until next time :)
(EDIT: decided to try having this syndicated at Planet KDE and see if I get blown to bits xP)