Mild spoilers ahead!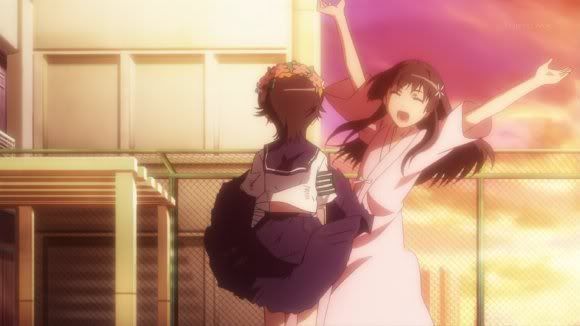 ただいま!
I know it's like two weeks late but what a beautiful end of arc right there. I wrote not long ago about how the uniqueness of the character relationships is the central draw of the series for me. Well, we came back full circle here at the end. I held my breath when Uiharu went up to meet a recovered Saten, and when they defined the moment with the skirt lift that was immediate gold for me. And then pan to Misaka and Kuroko for that necessary bit of Yuri cheek. For me it's not just good fun there's something amazing about these familiar acts. A channel through which feelings incommunicable in regular language could be delivered. Remember what I said about these little surface comedic interactions having developed latent, deeper meanings? Great, satisfying affirmation right there. And ooh that amazing amazing song in the background..
Is this show perfect? No. Does everything make sense? No. Are there flaws? Tonnes. But is it enjoyable? Hell Friggin yeah. And that indescribable, familiar glow it leaves you with at the end of the episode. Here's that oft-quoted, cliched remark again: Reminds me of why I love anime.
*happy sigh* Okay! Back to clearing the backlogs.
PS. What what what what? Did I just hear that this show is gonna be two seasons long? Champaign anyone?