Since I was rudely interrupted in the course of blogging the current season (by the violent atomification of my old blog), I've decided to give that up, and instead take inspiration from Dustin's Evangelion post and make a side trip down memory's lane to revisit some of the older but highly deserving shows that I haven't had a chance to feature. Or, in the case of Clannad, that I feel my previous writings had failed to do proper justice to.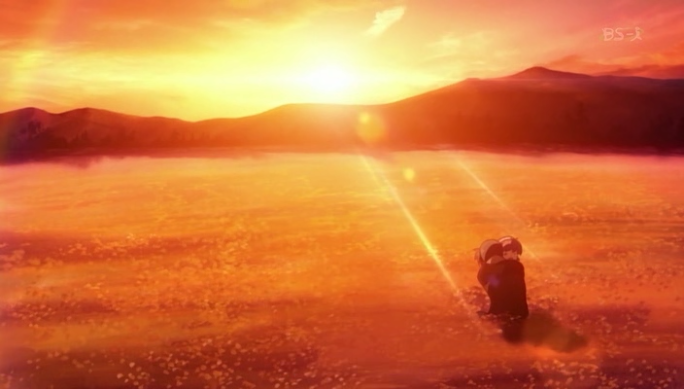 Clannad After Story 18 is an episode well remembered for being one of the finest, most poignant episode of an incredibly fine, poignant series. I remember the emotional outpour storming across the anime blogosphere, taking form in earnest articulations, both direct and indirect, crude and crafted, by both bloggers and their commenters, that marked the aftermath of that episode's broadcast. That's a lot of evoked emotions to recollect after such a long time. At the very least, I think a quick recounting of the episode's key events is necessary here to set us in the right frame of mind for meaningful reflection. To that end, I'm gonna quote an excerpt of a post by my namesake at Blogsuki, which does the job quite well, at least for me.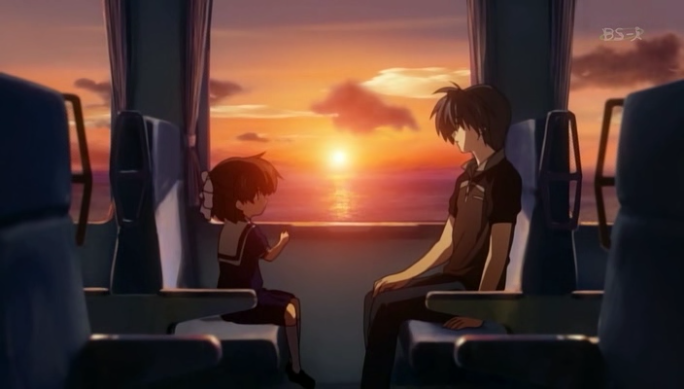 …my favorite scene occurs after Ushio loses her robotic toy and after Tomoya meets his grandmother. He sees Ushio mulling around amongst the sunflowers and runs to her. That's when he realized both the true strength and weakness of a family: having someone to protect. For all his life, he hated his father, he wanted to be nothing like his father, and, now, in his emotional nakedness, he realizes that the only way to protect the one he truly loves is to become his father. He returns back to the sunflower field where Ushio is playing in, the sun is going down, the sunflowers swaying in the wind, and he asks her to live with him as father and daughter. They hug. They cry. That was Tomoya's catharsis.

It took Nagisa, Ushio, Sanae, Fuko, his own father, as well as a host of others to get him to realize it. It's a powerful moment and is my favorite and is the most moving of After Story […] Just a simple scene that made the story go full circle as he finally let go of the hatred he had for his dad, thus completing his family, earning him his redemption, and, ultimately, his happiness. A pure story. An emotional story. A memorable story. A fantastic story.
The intricately woven threads of Tomoya's turbulent life and the masterfully crafted buildup towards this climatic moment of reconciliation is something that has been reasonably well fleshed out (see for example the related posts at Blogsuki), so I won't attempt to reinvent the wheel here. Instead I'm gonna turn the focus backstage and attempt to bring to light some of the subtler but equally important things that hid behind the curtains framing the story of Tomoya's redemption.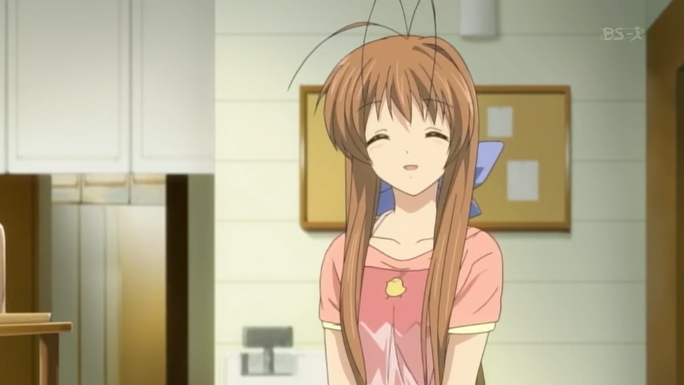 So here's something to think about. Tomoya's metamorphosis was the result of an honest journey of self discovery, and the anime places overriding emphasis on this by presenting the plot through the eyes of Tomoya himself. However, even through Tomoya's eyes, it is evident that this journey did not begin and conclude as it did spontaneously. Many things happened along the way that were critical to the progression, that supported, sustained and directed Tomoya at critical points of his personal revelation. What can be said about this? A common cynical response to stories of this nature is that in spite of the sufferings the lead character may have had to endure, he/she is really very fortunate for the very fact that things happened that enabled the forward development when a million things could have gone wrong to thoroughly discourage the character in the fledgling stage of his/her journey. The 'stars were aligned' for the redemption, so to speak. Does Clannad have anything to say about this?
I think so.
The biggest orchestrator behind the chain of events in episode 18 is clearly Sanae. It must be noted here that a little scrutinizing reveals that she had invested a great deal of thought, time and effort wagering on this very moment. We know that she was responsible for asking Tomoya's grandmother to meet him on that hill, and we know that she deliberately acted as catalyst to get Tomoya and Ushio to go on a trip alone together. But something deeper and less obvious can be seen reflected in the way Ushio behaves. Young children are naturally highly distrustful of strangers in general, let alone a gruff, brooding man like Tomoya. However Ushio, though initially uncertain, warmed up quickly to her father's sole presence, despite never having spent time alone with him ever before. More tellingly, she was immediately eager to show her good side to her father (going to the toilet on her own), was thrilled at the prospect of going on a trip alone with her father, and was greatly affected by her father's nonchalantly purchased first gift. This cannot be an accident, and the only reasonable explanation is Sanae, and, by correlation, the fact that she had been anticipating and making painstaking preparations for this very day since taking Ushio into her charge five years ago.
Let me chew on this a moment longer. There is no obvious reason why Sanae should have so chosen. When Nagisa died the loss she suffered must have been every bit as painful as it was for Tomoya – in fact arguably more considering the years she invested and the dreams she sacrificed for her daughter. And in its aftermath, Tomoya, the father, obviously had a much stronger responsibility for the child that was born, Ushio, than his in-laws. However Tomoya chose to chuck Ushio to his in laws and let them deal with the burden of his own legacy, while he drowned his sorrows in bitterness and escapism. Sanae and Aki arguably had every right to be angry at this apparent selfishness. But they ultimately chose, not only to bring up Ushio and to forgive Tomoya, but to go that step further, believe in Tomoya and engineer his journey back to redemption. This star did not align by chance, but by a human choice. A choice to believe, and to be there to support another person when that person needed it, regardless of one's own problems and suffering.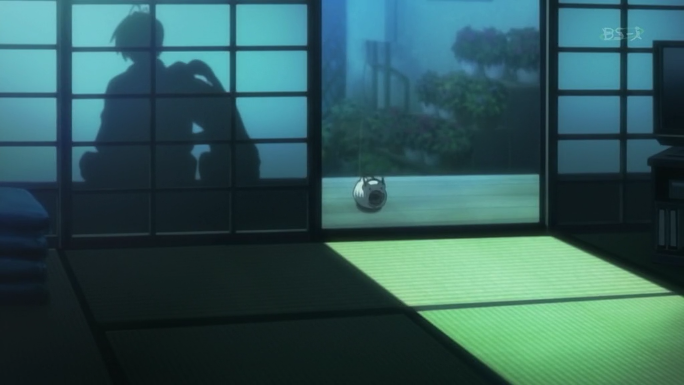 Pan out to Clannad After Story as a whole and you begin to see this as a recurring pattern. This is a story of tragedy, but each tragedy is made beautiful by how the characters close ranks, along friendships and familial bonds, to collectively support each other against the unfeeling onslaught. Welcome to Clannad's universe. Dustin commented, a long time ago in my old blog, that Ushio's death was just too sad and meaningless, but this is part of the worldview that Clannad paints. Tragedy does not happen for a reason, Nature hurls them upon us as her whim dictates. It doesn't matter if something is the most important, most precious thing to you – if nature so wishes, it will be taken away. The beauty of Clannad's depiction is in how we can do something about it. Every piece of joy, every road to recovery, every trace of warmth in the Clannad story is imprinted with human hands, stained with human effort, and vividly colored by a determination to believe the best of people. Clannad's evaluation of the human condition is a positive one.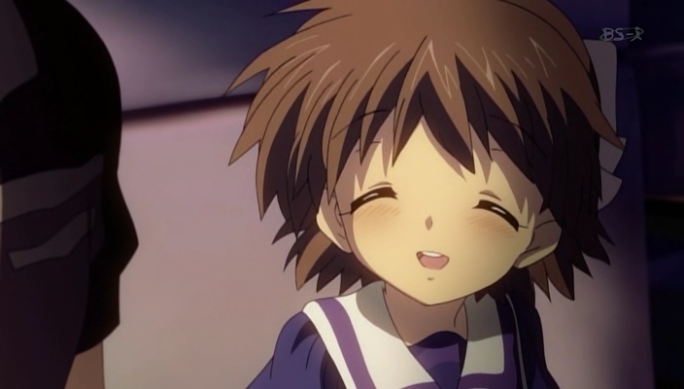 I hope that made some sense :) This is a big part of what Clannad After Story had always meant to me, and to some extent I even look to it as an inspiration. People have a tendency to not be bothered about things like these nowadays, but I think Clannad has consistently attempted to show that while we cannot avoid disaster on our own bodies, we can, sometimes even unknowingly, create miracles in another person's life. This is my humble attempt to ensure that this message goes unmissed by people who watched and enjoyed this awesome series.
Because sometimes all it takes is to care just that tiny bit more.