It's a new blog and a new beginning and all, so I figured I might as well start something random – whenever I change the anisong that I embed here on my blog, I'll make a small accompanying post with the (romaji) lyrics and translation. Personally I can remember a good number of anisongs that I started liking a whole lot better after I understood some of the lyrics, so I guess you could say this is my way of sharing that in some small way :) No guarantee that I'd be disciplined enough to keep this up though, but if you like the idea, let me know!
Without further ado, here's the first installment! Soba ni Irareru Dake de, the ED to the first episode of Sora no Otoshimono (which so far is the only episode I liked).
In case it still isn't clear by now, you can listen to the song by hitting the F8 key.
Lyrics and translations (and a pic!) after the jump :)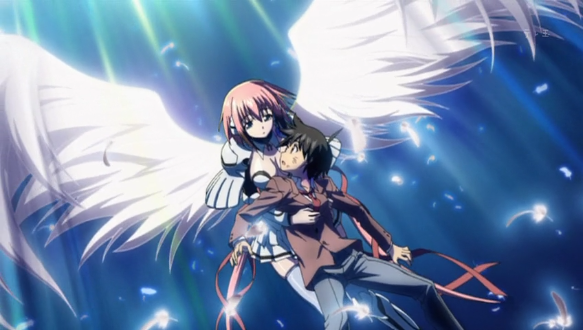 Lyrics

Sora ni mukete tsubuyaku kotoba ni
Tonari de anata ga waratte kotaeta

Mimi ni nandomo kodamashite
(Yasashii koe kodamashite)
Sukoshi homereru kurai atatakai
(Itoshiku naru kurai sou atatakai)

Konna kimochi anata ni todokeraretara ii na
Soba ni irareru dake de ureshikute

Kawari yuku sora no shita watashi mo kawaritai no
Itsuka anata no you ni sotto waraetara
Translation

Facing the sky, with murmured words
you answered me, smiling, beside me

In my ear, over and over, it echoes
(that gentle voice, it echoes)
Just being praised a little, it feels warm
(Just becoming dearer, it feels warm)

If I could bring these feelings to you, it would be nice
Just being by your side, I am happy

Under the ever changing sky, I would like to change too
That one day, I could gently smile like you
Romaji from Gendou's Anime Music.
Translation by me, referencing subs from Shinji-Nekomimi