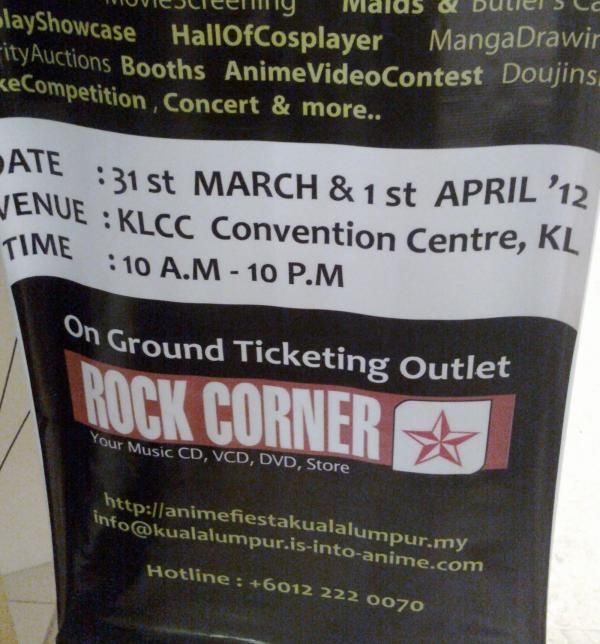 EDIT: This may not be a scam after all. See new post here!
Here's a public service announcement of sorts. I don't know how many of you who come by here are actually Malaysians or close thereofs, but if you are, consider what I'm about to say carefully. I came by a poster (above) today at a "Rock Corner" music store outlet advertising an anime con called Anime Fiesta Kuala Lumpur (web site here, as shown above), apparently to be held 31st March to 1st April at KLCC and even involving a Hatsune Miku live. The catch however is that this thing is, believe it or not, almost certainly a scam. After smelling something fishy while looking this up online, I did some reading around, and have a summary of evidences listed below:
In short, taken collectively, I consider the evidence virtually incontrovertible. This is almost certainly a scam, do NOT fork out any money to these people! Unfortunately I was able to find little advice for people who might already have purchased something from these folks. This post recommends reporting the scam to the National Consumer Complaints Center/Pusat Khidmat Aduan Pengguna Nasional. There is also an "Official video response" of sorts apparently by the local community regarding the situation, in which victims are invited to "contact us immediately in the comment section below & it'll further assist in the police investigation".
I hope there aren't many victims :( I was surprised at the terrible taste this left in my mouth, considering I had only had a passing interest in the possibility of going to the "event". I can only imagine how it would feel to be brutally cheated of your money and your anticipation and excitement. Various parties claim to be taking action against these guys, I wish them the greatest success. If someone knows what else can be done about these conmen, please drop me a note at the comments.
Edit: links fixed. /palmface