Now I am and have always been a fan of the compiz snow plugin. I remember spending some of the earliest days of my Linux life haphazardly getting bombastic desktop effects running and joyfully ignoring how many of the plugins were in the "Bad" list. Those were the days. I sit on KDE's elegant Plasma nowadays and although Kwin also sports a (not so "Bad") snow plugin, it has never quite lived up to the compiz version that I knew and loved. Over the years it has matured and stabilized quite a bit, but the key feature that's still missing for me is being able to swap snow out for autumn leaves and sakura petals – custom textures.
Not entirely sure why, but the other day it just suddenly hit me that hey, it shouldn't be that hard. There's a texture stored somewhere that Kwin uses – I just need to find and replace it right? Turns out that was precisely right. The snowflake texture used by the plugin is
/usr/share/kde4/apps/kwin/snowflake.png
So how do we use a custom one? Find a png image to use as custom texture, and simply rename it "snowflake.png" and copy it into /usr/share/kde4/apps/kwin/! Do backup the old one first though just in case. After you've done that, disable the plugin, click apply, reenable it, click apply, and when you toggle the snow it should descend with your custom texture.
Here's a screenshot where I use this leaf to create lazily descending autumn foliage: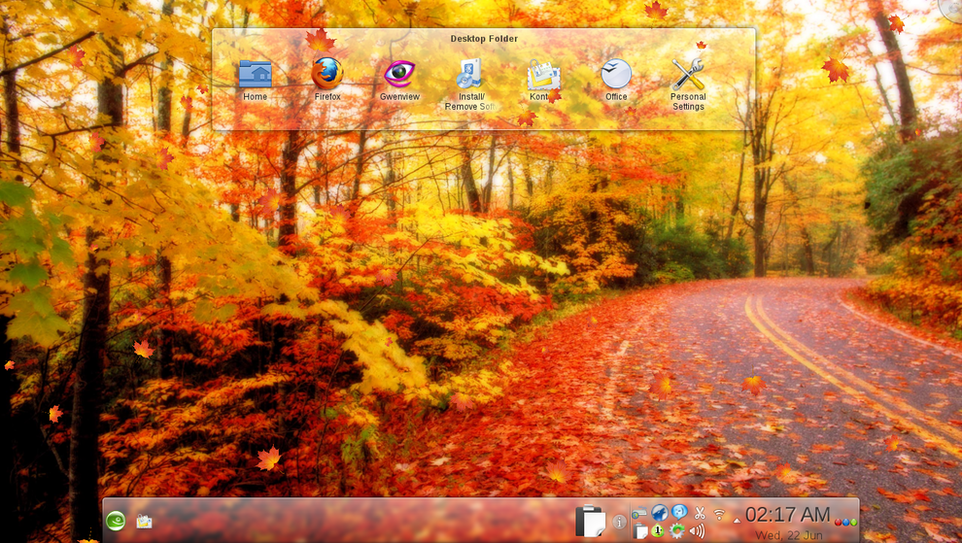 Next step would be to find time and see if I could write a patch to make a non-hacky way to do this :)