Interestingly enough, in the wake of the recent spark of talk on "missing" KDE 3 apps that never made it to platform 4, I've discovered that an app I had always assumed was "missing" (or at least late-to-the-party-and-we're-still-waiting) is in fact, not. Well, not really.
KDirStat is this really great disk usage analyser that I've used all the way since I was on Gnome in my early Linux days. An extremely handy utility for figuring out what is using how much of your disk during hard disk spring cleaning operations, and one that is so good at its job that I haven't been able to find a replacement. And it's a KDE 3 app. One of those awesome KDE 3 apps (actually, by now, the only one remaining) that I use and still use even though I have never run KDE 3 (and even though KDE 3 apps look even worse than gtk apps on the Plasma Desktop these days). So imagine my surprise when I discovered that KDirStat, in spite of its "in progress" status in the KDE 3 Application Porting Status page, actually has a KDE platform 4 port called K4DirStat: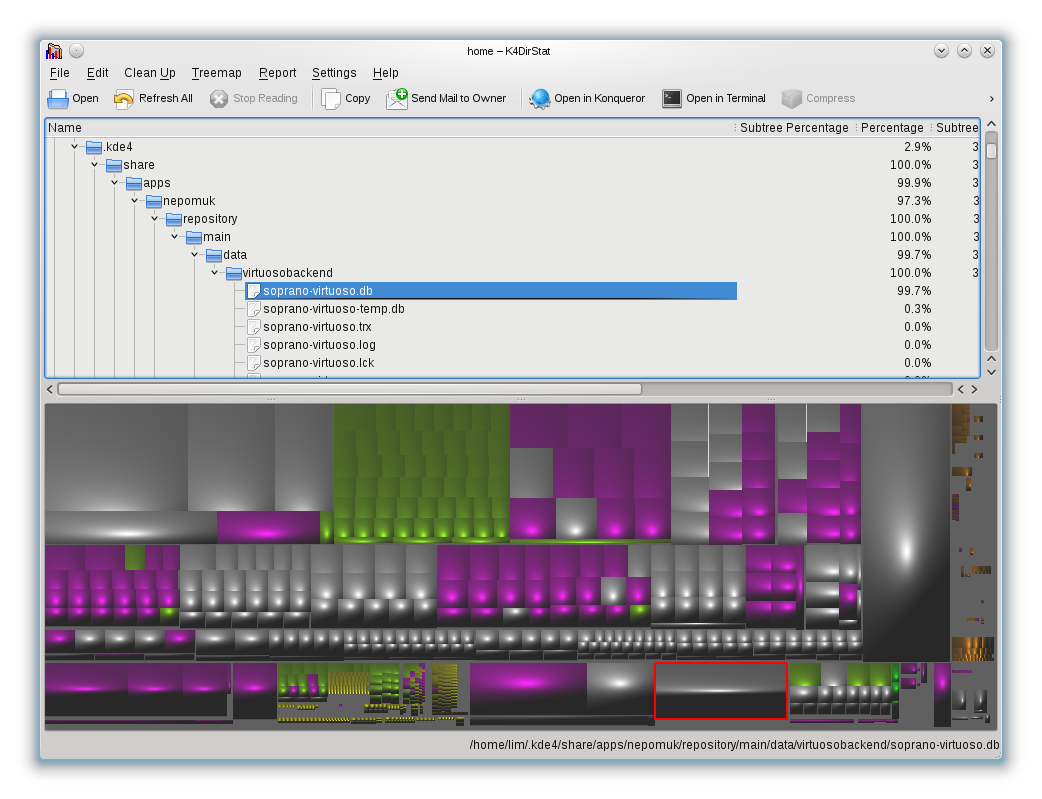 And indeed not one that is buried in the danger-fraught lands of developer previews, but one that has apparently been packaged and released by Fedora since Fedora 13, which likely means it does not in fact eat babies and is deemed suitable for general consumption.
The catch, of course, is that it is only currently packaged for Fedora, to the best of my knowledge.
A shame really! It'd be great to get this reviewed and eventually integrated into upstream KDE, since it doesn't look like the original developers or anyone else is presently working on a port (are they?). This doesn't look like it's gonna happen anytime soon though, considering it hasn't happened in the whole year since the port became available, and considering how the last post on the author's blog is dated early August last year. I wonder how much of the KDE community is even aware that this port exists. That last at least should hopefully be fixed now :P
Well, some voices and hands will probably be needed to make things happen. Of course, those voices and hands could be mine, but I'm a little tied down at the moment. We'll see =/
Oh, in the meantime interested users on non-Fedora platforms can just build it on your own. Quoting instructions from the author's blog:
The source is being tracked with git. You can get an up-to-date copy with the command

git clone http://grumpypenguin.org/~josh/kdirstat.git

To install, simply run:

cd kdirstat
mkdir build
cd build
cmake ..
sudo make install
OpenSUSE users can also add this repo to install it via Yast.