I guess, given the resonance of the news with the geek-otaku underpinnings of this blog, it's high time I finally came out and said something about this chick: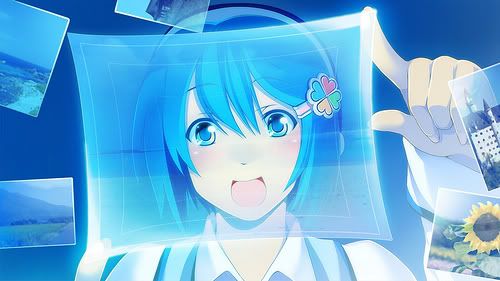 Tsundere remark: W.. we have multi-touch support in KDE SC 4.4 too. J-Just so you know!
(Warning: this post may contain an unhealthy dose of nonsense)

What can I say? You know Microsoft really has something down the bullseye when even staunch Linux users like myself find themselves attacked by a stab of impotent desire.
("Holy", I remember Tsundere-remarking to a friend on first hearing the news "T-that is almost win!")
Of course, as you'd expect of the great company, Madobe-tan only ever finds herself accommodated in top-of-the-line Ultimate editions, which through the eyes of a Linux user translates to casting down a small fortune in exchange for (inferior?) software we'll only ever use 5% of the time – all for nothing but a little nana-tan desktop moe. The clarity of the realization only accentuates the pain.
Someone – Ubuntu-JA, anyone – should go replicate this on Linux. You know in fact It is completely trivial to replicate this on Linux – technically. I mean c'mon, a bunch of wallpapers and a custom sound theme? You want a window decoration theme to go with that? Oh, with some custom splash screens thrown in? Okay, we'll need art. Time to go hunt for a competent doujin artist. I mean I'm sure ONE of them out there uses and likes Linux (right? right?). And ok, I guess the seiyuu bit is a little of a toughie. Someone should go kidnap Aya Hirano or something and convert her. We could then design a formidably moe Linux-tan that trumps all the existing inadequate versions, and record her a nice collection of matching sounds (Konata-style "Okaerinasai mase goshujin sama!" anyone?).
We could even think up a random clever name for her, to rival Nanami's. Like Rina Kusuda or something (concatenate that to yield "Rinakusu-da" ie. "Linux-da"!!).
Ok nevermind, I phail at clever names :( It's been a tiring day so I apologize if this post sounded a wee more retarded that usual.