In case you're wondering about how all the songs so far are on the soft and gentle side, yes it's deliberate. I do like a number of the stronger and more upbeat songs too, but those just don't quite do as ambient background music, don't you think?
Here is 'Spirale', the first OP to Aria the Origination – third and sadly final season of that delighting show. I have a revisit post on Aria in the pipeline, so having this song up would hopefully prevent it from getting caught in the perma-procrastinate loop that hath heretofore consumed too many a stalwart idea. :(
Romaji lyrics and translations (and pic!) after the jump as usual. Hope you enjoy it as I did! Remember, hit F8 to listen along while reading.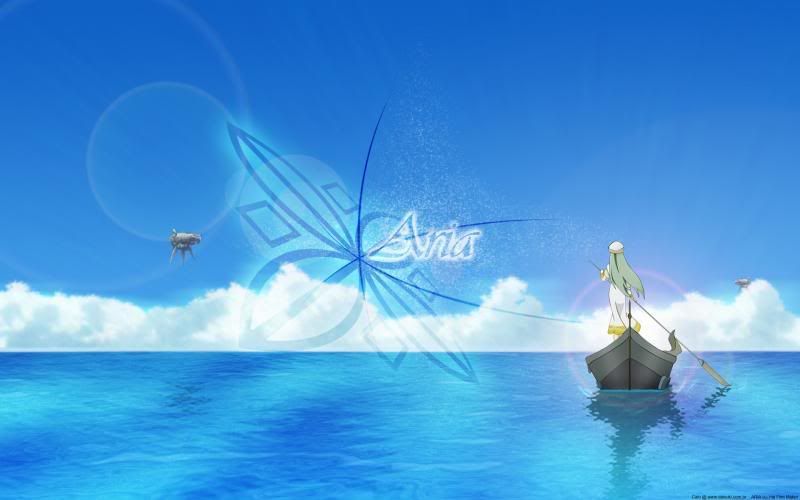 Lyrics

oboeteimasu ka ano hi wo
futo kanjita tokimeki wo

aoi hizashi abite
kaze wo kiru
kimi ni mitoreteru to me ga atte
egao koboreta

maru de Spirale
itsu made mo te wo furitai hibi
koko ni tashika ni kimi to ita akashi
zutto Spirale
kono saki mo tsuzuiteru michi ga aru
tsugi no saka wo nobottara
mata aimashiou
Translation

Do you remember that day
The sudden feeling of your heart beating?

Bathing in the blue sunrays
Cutting through the winds
I saw you, our eyes met
A smile spread

It's like a Spirale
The days I wanted to forever wave my hand
Here there is proof that I was with you
Always Spirale
There ahead of us is a path continuing
That next hill, should you climb it
Let us meet again
Romaji and translations adapted from Gendou's Anime Music.