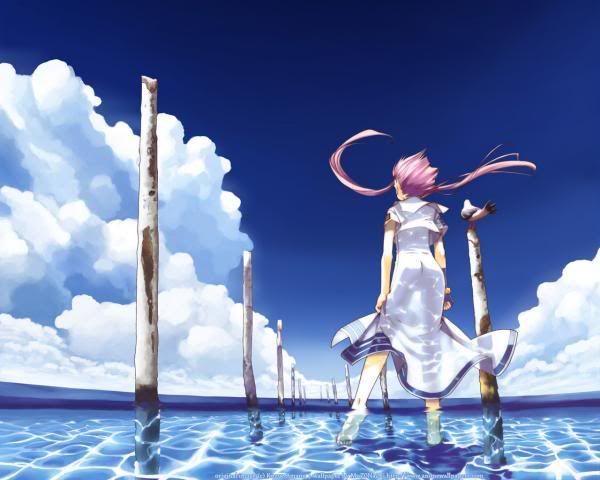 There is a class of anime that does not pretend to be deep, but operates under the modest ambition of unsophisticated but honest entertainment. That brings an easy smile and a sprinkle of laughs without demanding serious thought on the part of the viewer. But that nonetheless does not allow itself fall to inanity, but that dashes out with its simple tales a curious quality of joy and rejuvenating appreciation, for the world, and for the self.
Let me introduce a distinguished member of that family.

Continuing down memory's lane after having left Eva 1.0 behind, let us now take a brief stop upon the serene waters of Neo-Venezia, which as the story goes is a terraformed human settlement upon the surface of Mars – the first and only extra-terrestrial human colony, and modeled after the beautiful city of Venice. Don't be fooled – that's about as much sci-fi as you'll get. The sci-fi elements serve primarily to provide the premise for the creation of a utopian world of soothing winds, clear and unpolluted waters, and buildings of captivating but homely architectures – The canvas on which the countless little stories of the series are lightly and tastefully brushed on.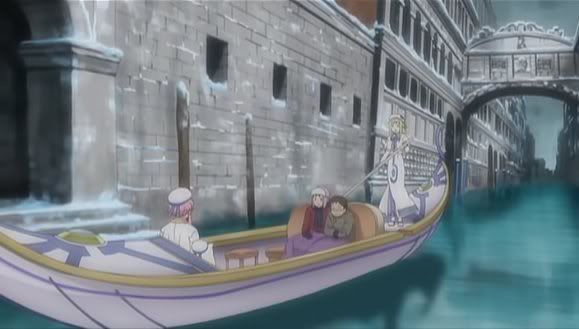 And that succinctly describes what Aria is – a collection of short, episode-long, distinct but inter-related stories, that revolve around the daily lives of a cast of Undines – dedicated rower-cum-tourguides who cruise daily on their gondola along the meandering waterways of Neo-Venezia, acquainting visitors to the various wonders, sights and sounds of their fair city.
It's a little hard to give a show like Aria a wholesome portrayal in words. There are so many little things about it that make it such an inordinate joy to watch, episode after episode. I'm just going to have to pick a few key ones and try to make the best of them.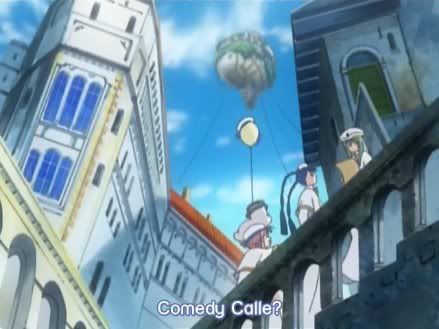 Aria is, understandably, by no means comparable in terms of animation quality to the giants of the industry. Nevertheless, by picking out several key things to do right (like water ripples and venetian buildings), it still manages to come off as exceedingly picturesque and absolutely pleasant to look at. Indeed people have (very appropriately) immortalized the kind of scenic imagery you see in Aria as "scenery porn" ;) The combination of the slow, slice of life pacing, the various beautifully drawn stills frequently featured in the course of the stories, and the varied soundtrack of (excellent!) piano-based and guitar-based pieces, creates a sensation that one could hardly fail to enjoy. A thorough kind of relaxation that loosens you up and leaves you smiling again after a long and hard day of chores and abuse. The kind of thing that, in two words, smoothens wrinkles.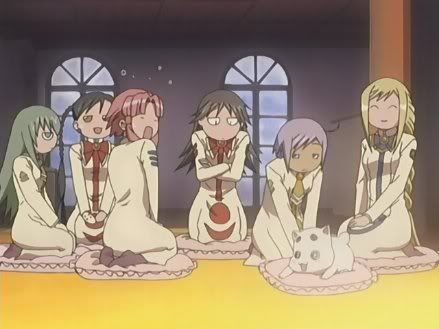 But a big part of the charm is also the characters and their colorful personalities. I've got to say, I don't recall many shows with characters that delight me as greatly as those in Aria. They are so funny! Each sporting their own delicious set of quirks and idiosyncrasies and they fit into each other like jigsaw pieces. They even each have their own catch phrases. The stories take their time to progress, but the sheer number of episodes nonetheless means there is plenty of time for the characters to be fleshed out, so that somewhere in the middle of all that fun they begin to come to life, and you come to know them and feel a kind of fondness and affection for them. The same kind of affection that is shared by the characters amongst themselves. Many stories tell of the care the three senior Undines feel for their juniors, and the value that the junior Undines hold the friendship that binds them. Many of these are light hearted and delightingly amusing, but some take unexpected plunges down the more poignant side of their kinships, so don't be at all surprised to find yourself coming away with a glowing feeling and a warmed heart every now and then.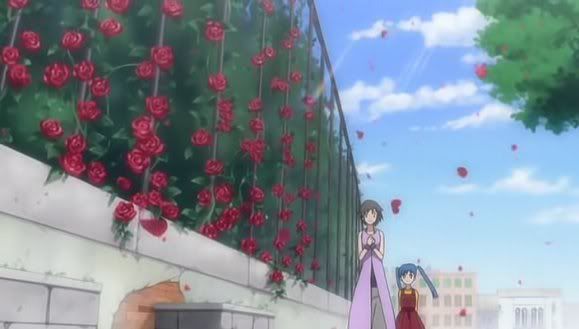 Every good show has a statement to make or a message to deliver, and Aria is a show that actively and earnestly expounds the oft unnoticed beauty that constantly surrounds us in our lives. Through the adventures of the main girl Akari, the hopeless sentimental who considers every meeting a miracle and who harbours a deep, almost anthropomorphic love for her city, Aria brings our attention to the countless subtle little things that that are often overlooked, but that should bring us a lot more happiness and gratitude if only we could learn to see and appreciate like Akari. Nearly all the stories thematically allude to this, that things are almost never as bad as you imagine them to be, that there are an infinity of amazing things, blessings, miracles out there just within reach, if only we could learn to recognize them. It's all about seeing and appreciating what you have, and being thankful for it.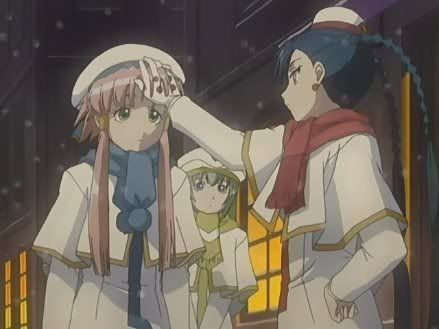 Don't get me wrong – the stories are really simple and easy going. But even simple stories can have a curious kind of power, especially when served sprinkled with great pacing and really awesome music. You may actually find yourself discovering something precious and profound at some points in the series. Of course, not every story would strike such a resonant chord, but they all nonetheless invariably possess a calming quality. So if you ever find yourself feeling frustrated, stressed and harassed, trust me on this. Take 30 minutes off at the end of every day and watch an episode of Aria. You won't believe what it might do for you.
And you know what's the best part? There are THREE seasons of Aria. Oh joy! :)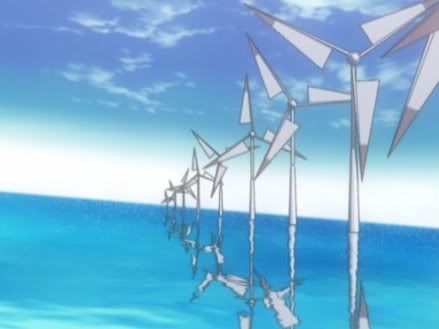 As a post-script aside, I find it interesting and somewhat amusing that Aria must be the only show that tsukomi's itself just about every other episode. Every episode Aria would show us something beautiful, and Akari our main girl and effectively the agent that puts the episode's message into words, will come out and attempt a dreamy articulation, whereupon her friend Aika (who is incidentally voiced by Chiwa Saitou of Senjougahara fame) would leap up and yell her down with arguably the most catchy line in the entire show: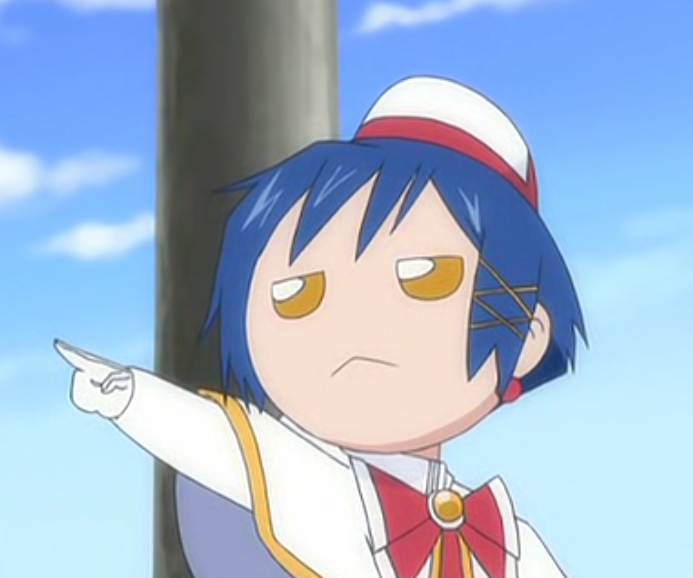 Hazukashii Serifu Kinshii!! (that's "Embarassing remarks are prohibited!")
And this is only one of the recurring kind of character interactions that make the show and its cast so endearing ;)