I'm going out on a trip with my family soon, so this shall be the final post of the year ;) I've been playing with the idea of putting up something Christmas-themed, but never found anything quite suitable. Well, this is one's still pretty close, I think.
Here's another song from Aria, the second ED to Aria the Natural – the second season. In spite of what the lyrics say, I find the song happily suggestive of a cozy, sleepy winter's night, though being a creature of the tropics I can't say I'm all that confident about how accurate that impression is :P
In any case, I hope you'll enjoy this one. The lyrics are nothing noteworthy, but the tune is as sweet and as calming as the series it graces. As always, hit F8 to play the song, and I have romaji lyrics, translations, and a picture after the jump.
Merry Christmas and happy holidays from Between Linux and Anime!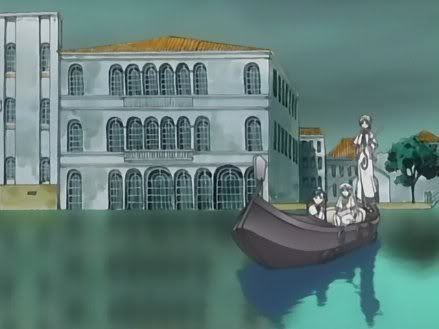 Lyrics

Sariyuku natsu no hi omoi wo yosete tsudou barukonii
Minamo ni kirameku kaze no gondora ima suberidasu

Nagareru toki no kawa de meguri aeta hito

Ima yozora wo kogashite kagayaku natsu no yo no yume
Wasurenaide Smile Again itsumademo
Translation

I gather the memories of the passing summer's day upon the balcony
Glimmering upon the water's surface, the gondola of the winds takes off

That person I met upon the flowing river of time

Burning the night sky, that radiant midsummer night's dream
Never forget to Smile Again, always.
Romaji lyrics from Gendou's Anime Music
Translations by me referencing subs by Hikari no Kiseki.