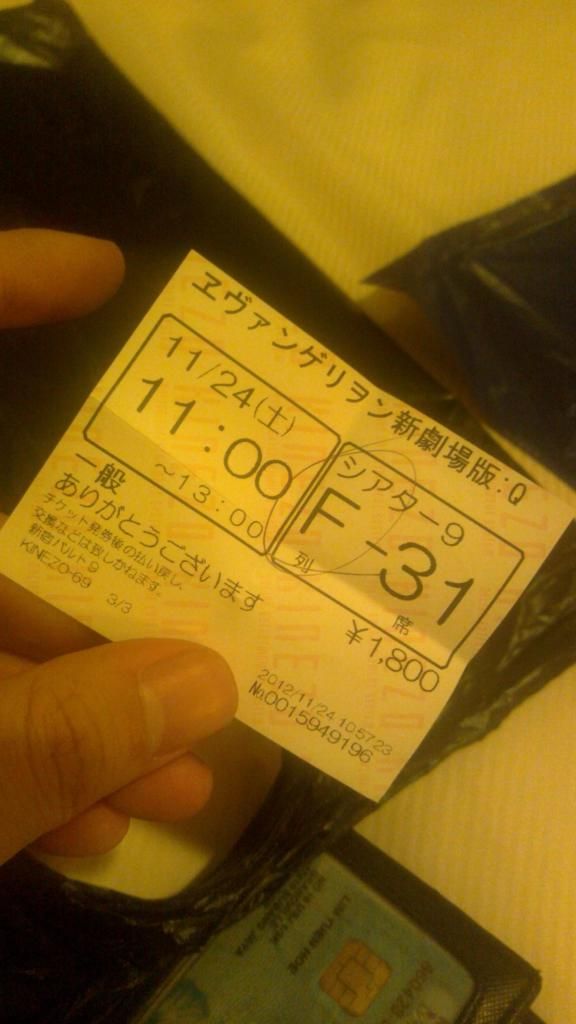 I'm in Tokyo right now, and earlier today I just went down to the Wald9 cinema at Shinjuku to watch Eva 3.0. And man, so many feelings, so many thoughts, so many emotions. It's always an emotional journey for an eva fan like myself uncertainly approaching a new film after so long, but it's a really good feeling. Eva 3.0 with all its bells and whistles was phenomenal on the big screen, especially the blaring, orchestral soundtrack. The rumbling excitement, the intrigue and speculating, the enraptured attention, the awed wonder, all rolled into that profound sense of speechlessness that stole over me at the end when the credits rolled to Utada Hikaru's beautiful song. It was over far too quickly.
I don't want to say too much about the film itself quite yet. Surprisingly, I was able to follow the surface-level aspects of the show fairly well, so the lack of subs wasn't too much of a big issue. All the same. there'll be a lot to think about and digest, especially in the light of my analyses of the previous two films. In some sense the film felt a little like a troll, a very Anno-esque one I might add, where everything is rent asunder and you're just thrust into the middle of the storm to be tossed around. And nothing is properly explained throughout the entirety of the film that we've all waited so long for. Yet, while the the show concluded on a cliff-hanger of sorts, the final scene had a curious, potent sprinkle of magic to it. The magic lingered and painted over the shimmering notes of the ED with it's haunting, awed flavor. It was really nice that nobody got up and the lights didn't go on until the whole thing including the credits and preview was over.
There will be a more detailed post, of course, a long time from now once DVD/Blurays are out and more rewatching and thinking can be done. In particular, I at least want to talk about Kaworu Nagisa, about some of my theories on him in the past, and how it connects with his somewhat vivid portrayal in the new film. For now, I think that's all I want to say. I'll be back probably next week with a loot show-off post of sorts. I'm being a little looser with my pocket this time so I should hopefully have a decent range of stuff to brag about :)
You can follow any responses to this entry through the RSS 2.0 You can leave a response, or trackback.