Decided to do this one after all. This is the ED to the second film of the animated film series Kara no Kyoukai – the Garden of Sinners. It is a pretty nice song on its own, but it only truly resonates when savored in its intended context – as a curtain-closer to the second film. So if you haven't watched it yet, I highly, highly recommend you go do so. Yes, watch all seven films. You won't regret it.
Anyway here it is, "Kimi ga Hikari ni Kaete yuku", or "You return it to light". Quite possibly a love song at its core. A dreamy song that traverses a spectral path from shimmering melancholy to triumphant catharsis. As usual, hit F8 to listen to it while it's up, and hit the jump for a picture, romaji lyrics, and translations.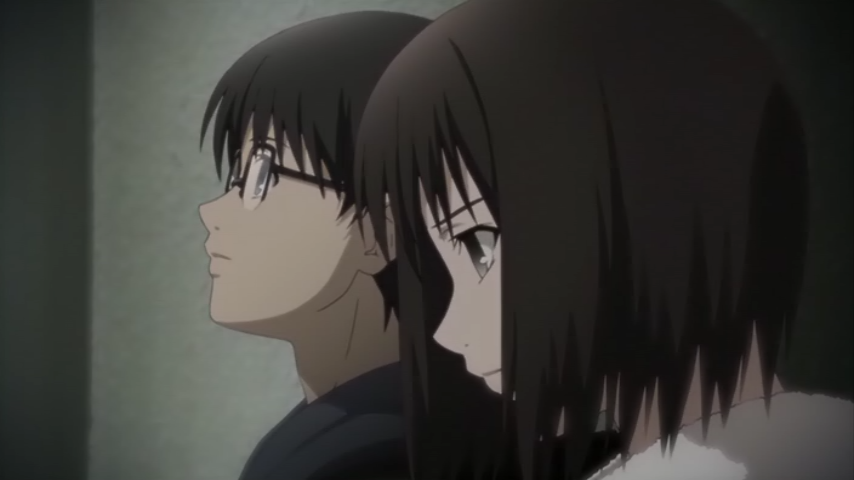 Lyrics
Atataka na kaze no naka de
Dareka ga yonderu
Kurayami o oshimu you ni
Yoake ga hajimaru

Ashita wa kitto
Kirei na sora ni
Gin-iro no niji ga kakaru deshou

Konna ni kanashii keshiki o
Kimi ga hikari ni kaete yuku
Chiisana namida no tsubusae
Houseki no you ni ochiteku
Mirai no naka e

Kokoro ni wa himitsu ga aru
Sore demo furetakute
Fureaeba kowarete yuku
Tamerai wa rasen no naka e

Hashi o watatta kawa no mukou made
Ashita wa kitto
Mahiru no naka de
Haru wa amaku fukaku kaoru no deshou
Yume kara samete
Hito wa nani o sagasu no

Konna ni akarui sekai e
Kimi ga watashi o tsurete yuku
Mabushisa ni mada tachi sukumu
Senaka o sotto dakishimeru

Shinjiru koto no hakanasa o
Kimi ga hikari ni kaete yuku
Mezameta asa ni wa namida ga
Houseki no you ni ochiteku
Mirai no naka e
Translation
Within the warm wind
Someone is calling
Seemingly reluctant to part the darkness
The dawn begins

Surely, tomorrow
Upon the beautiful sky
Shall hang a silver-colored rainbow

This scenery so sorrowful
You return it to light
Even the little drops of tears
Fall, like jewels
Into the future

Within the heart lives a secret
And yet you wanted to touch it
Should the touch land, it will shatter
Hesitation descends into the spiral

Over the bridge you crossed to the other side of the river
Surely tomorrow..
Within the noon daylight
Spring will be sweetly and deeply scented, right?
Waking from a dream
What are people searching for?

Into such a brilliant world
You've taken me
And as I am still petrified by the brightness
You gently held me from behind

The transcience of believing
You return it to light
As I awake to the morning, my tears
Fall, like jewels
Into the future.
Romaji Lyrics from Gendou Anime Music.
Translation by me, referencing translations at Gendou Anime Music.