Here's a long-procrastinated update on my endeavors re: Nepomuk and Anime, first introduced here. I mentioned then that the way forward would be to create a plugin-based framework so one could fetch anime metadata from different online sources. Well, as it turned out, I found out that Joerg's Nepomuk Metadata Extractor can already do that, so I scurried over and grabbed the sources and did my subsequent work on top of Joerg's program. The anime use-case is now in a fairly workable state. Basically, what the program does is it lets you manually or automatically source for meta information (series title, episode number, synopsis etc) from online sources for anime video files you have on your disk, and write all that to file as Nepomuk metadata.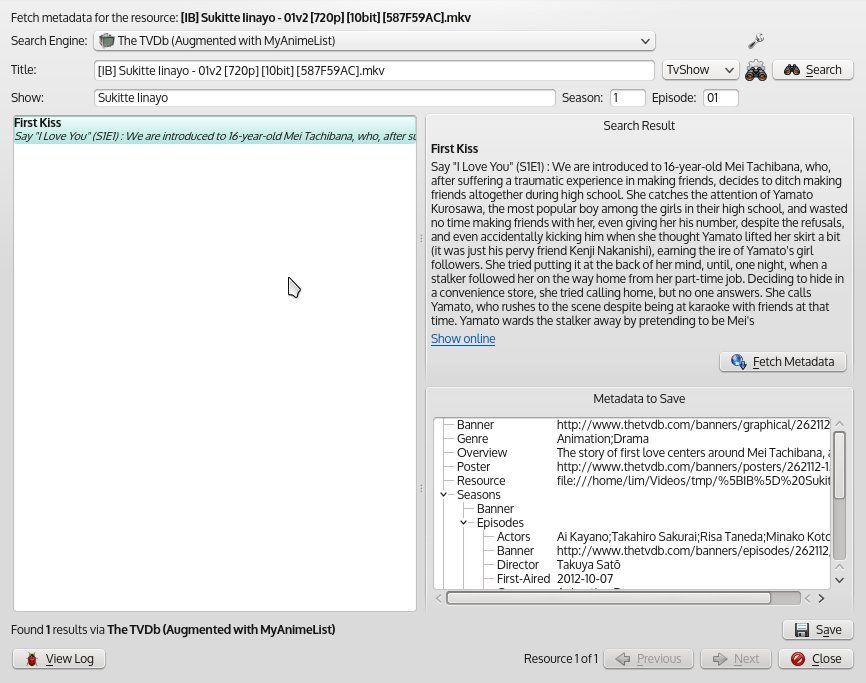 A small, similar patch gave Nepomuk Metadata Extractor the same anime compatibilities outlined in my previous post. One of the more significant limits of the previous program was that theTVDB's web api, which Trueg's program used, did not support show aliases, which is a huge problem for anime, especially when theTVDB names "Tonari no Kaibutsu-kun" as "My Little Monster", for example, so searching using "Tonari no Kaibutsu kun", which is what everyone else calls the series, would yield a null result. I mentioned that MyAnimeList's API, which does support search with alias, was more resilient against cases like these, but when I set out to write a MyAnimeList plugin, I discovered the obvious problem – unlike theTVDB, MyAnimeList is a per-series service, and didn't have data for individual episodes. In the end, what I settled on was a modified version of the tvdb plugin, which I called "tvdbmal". The plugin would use the MAL api to find a list of show aliases first, then run each alias against theTVDB. This significantly increased the number of shows that could be automatically fetched compared to the vanilla tvdb plugin:
Dantalian no Shoka now fetches automatically!
Of course, this still isn't exhaustive, so another feature I added was the ability to manually specify alias overrides, so that if tvdbmal couldn't find the correct alias to use by itself, I can just tell it.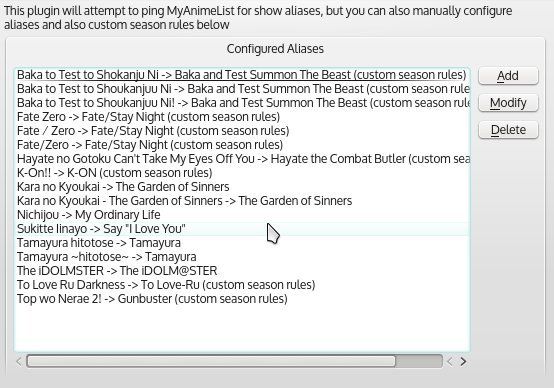 As I worked through my own video collection with the program, I added features as needed to be able to cover all my shows, so that the alias configuration system is now advanced enough to support special custom season rules. The problem was that new seasons of anime often have a different title altogether, and are not labelled as "old anime title season 2". For example, "To Love Ru Darkness" is really "To Love Ru" season 3. Worse: "Fate/Zero" episodes 1 through 13 are considered "Fate/Stay Night" Season 2, and episodes 14 onwards are considered Season 3. The alias configuration system is now powerful enough to deal with oddities like these:
What does having all that metadata do for you? Well for starters you can see all that stored data using dolphin's information panel. If you have Trueg's tvshow kioslave, you can also browse all your series/seasons/episodes via dolphin. Even better, you can grab this little gem called bangarang media player that I recently discovered, that already has plenty of hooks out the box:
Browsing series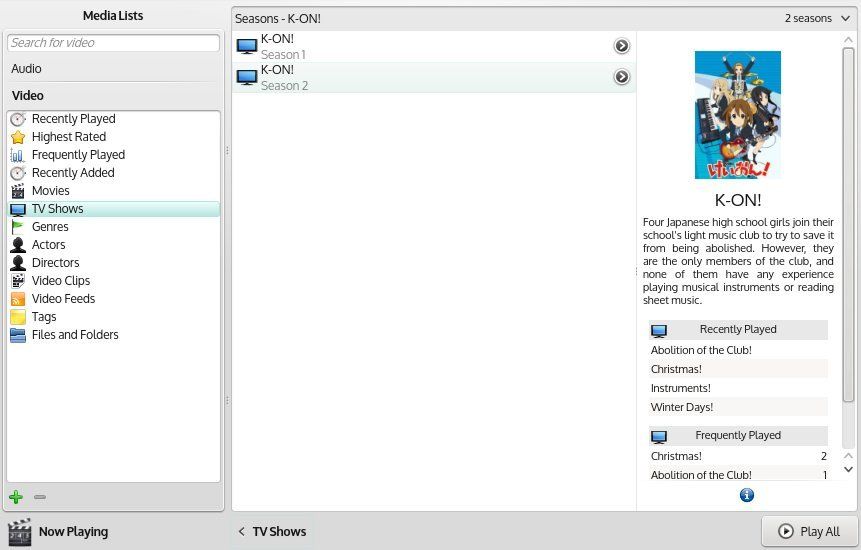 Series Seasons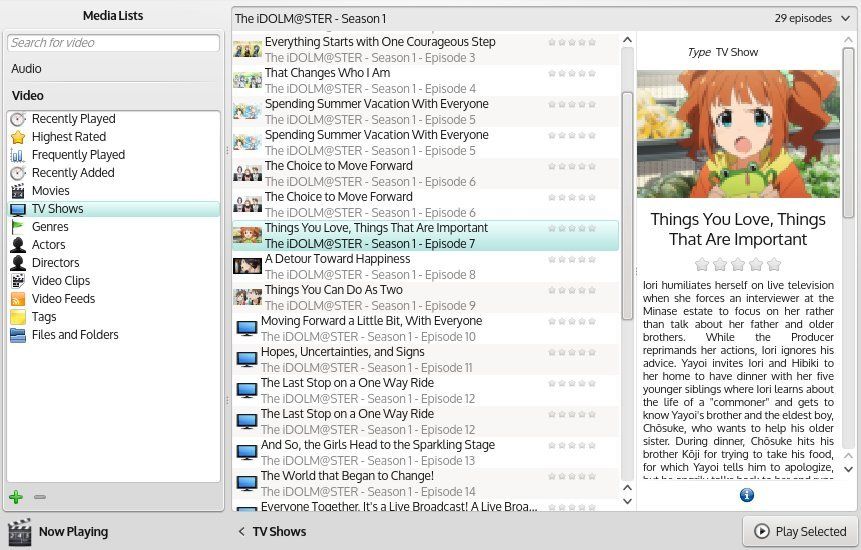 Episodes and all their information
I'm sure even more things can be done with the metadata, but this is just the beginning. The MAL alias search could also be improved. In the meantime, if you'd like to give this thing a whirl, you can grab the latest master for metadata extractor with
git clone git://anongit.kde.org/nepomuk-metadata-extractor
And bangarang with
git clone git://anongit.kde.org/bangarang
Have fun!