I am at this point very hopelessly behind on seasonal anime (So no brainmarks this season either, oh sorrow). However, I did recently complete a full rewatch of Clannad After Story (having splurged massively to obtain it in glorious 1080p), so perhaps it's time I delved once more into that show of shows and talked about the things that stood out to me while being glued to the screen.

Almost any show, or any kind of storytelling medium for that matter, subconsciously projects a set of ideas onto the viewer: a model of the world, an ethical code of sorts. The kinds of things the protagonist strives for, the things he/she overcomes, the sources of conflict, converge into an interpretation of reality, a "this is how the world is like". And of course, the reason I begin with this is because I feel like this is particularly important and noticeable in Clannad. With Clannad the ideas are woven into the story with a regularity and prominence that make it almost conscious, and at the end of the day the kind of world that Clannad painted onto its canvas of vivid colors and poignant music is, for me, perhaps the main reason it is so resonant, so beautiful and heartfelt.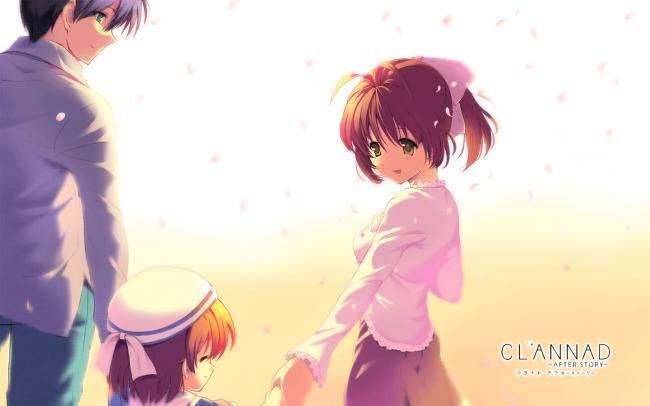 So here's a prominent recurring idea in Clannad: People First. People are what truly matter in Clannad's universe. This idea is made evident along several threads. For one, Clannad's long story is peppered with various pursuits, including impassioned ones like Akio's acting career, Yoshino's musical stint, Kotomi's parents' research, and while Clannad does not demonify these by any means, it does, virtually every time, gently steer the focus back onto people. In fact it often goes so far as to infuse these pursuits with an aura of almost sanctified importance, stressing the meaning these pursuits held for their pursuers – the raw living, breathing happiness it earns, and pivots on that to show what it truly means to care about another person. And it blesses that act of caring, weighing it against the sacrifices and pronouncing it worthy, because in the end, in Clannad's valuation, it is the people we love that truly matters. From the original Clannad down through After Story many of the interweaving storylines in the show follow this in a recurring pattern. Akio and Sanae gave up their career dreams for the happiness of their daughter, Tomoya's father gave up his happiness and honor for a son whose understanding almost never surfaced, Yoshino came home in the wake of his shattered musical journey to rediscover meaning in the form of Kouko, and Kotomi's parents, at the very end, chose to preserve a final gesture of love for their daughter over the culmination of their life's work.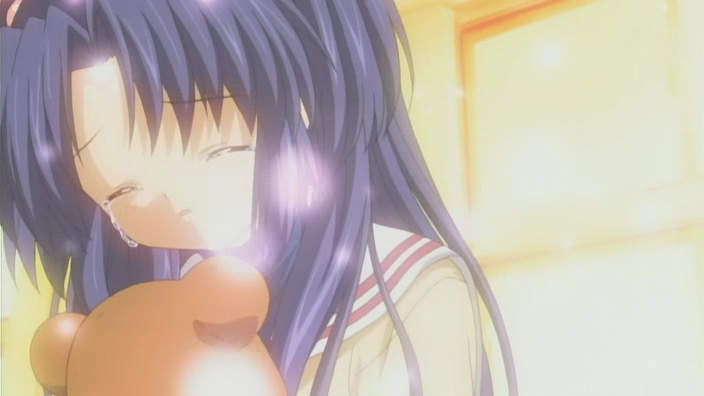 But people isn't just a life goal – an external manifestation of purpose. Clannad's portrayal of human relationships is so intimate and earnest that it feels like the people blend together and each become part of the others' whole. People complete people. The strongest example of this is Tomoya and Nagisa, all along the winding journey of their entwined lives from episode 1 through the fifty episodes that followed. If there was one word that could summarize Tomoya and Nagisa at the very beginning of the show, when they first met amidst the cherry blossoms, it would probably be incomplete. And in retrospect the portrayal seems intentional: both of them were sort of stuck in a rut, harboring hidden strengths while helplessly ecking by against personal hurdles they couldn't be rid of. It was Tomoya's physical strength and natural wit that first began making a difference when he began finding himself helping people because he could, and under the protection and encouragement of Tomoya's care Nagisa was able to gingerly step out of her timid insecurity and gradually tap her natural wellspring of unrelenting wisdom and gentle strength, and as Nagisa matured, she in turn put into Tomoya's uncaring worldview something truly beautiful and precious, something Tomoya could want to love and protect, someone who could also love and protect him, and thus empower him towards adulthood with purpose and hope. The characters feel almost like jigsaw pieces, and the closer they become the more they fit into each other and the more complete each becomes. Tomoya is Tomoya because Nagisa is Nagisa.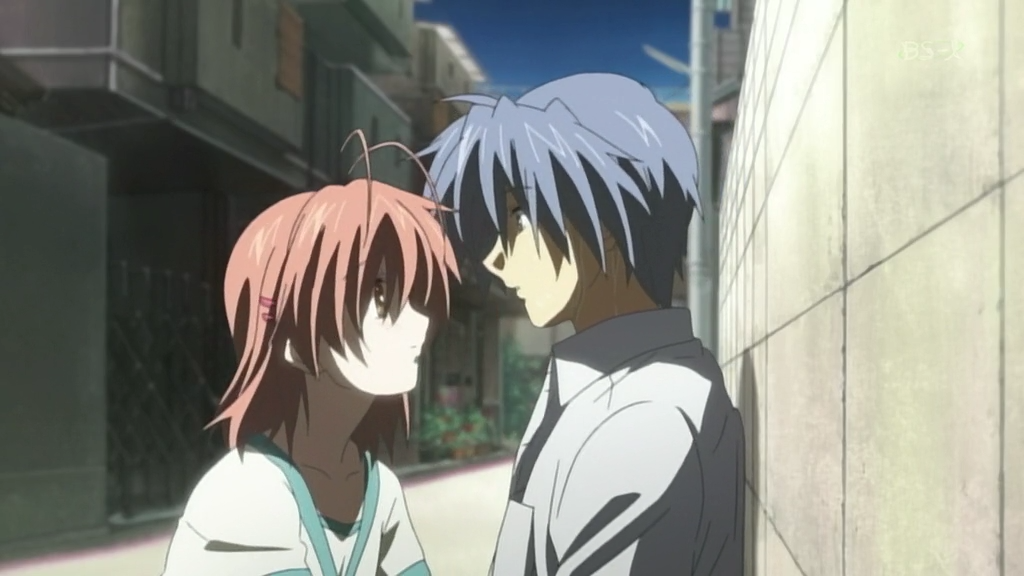 The significance of this is that this is really Clannad's interpretation of human relationships. Family and friendship isn't just a matter of obligation or responsibility or even love or kindness, but also self seeking. Through the sum of others you find yourself, and partially through you do others find themselves. In Clannad's storytelling, the act of helping other people also feels exceedingly.. natural – if one had the need and the other had the means – you help that person. There is no concept of deserving or fairness about it, in fact Clannad reduces the act of helping to just another human interaction, and the effect is mutual. When Tomoya helped all those people during his school years, he wasn't just giving things away for free. He was intertwining himself into the lives of other people, people who became dear, and who go on to define the rest of his life in exceedingly powerful ways. The ability to help isn't a privilege that you guard carefully and execute selectively, it is a means of connecting with humanity and building your life that should be used as often as possible. Clannad establishes human beings as irrevocably social creatures, and thus justifies the earnestness with which its characters interacted, loved, suffered and reveled in each other. This is how you live. This is what it means to live.
As Tomoya finally began to come to grips with Nagisa's death, the "People completes People" idea is brought vividly to focus as Kyoani flashed the bits and pieces and the sights and sounds of Nagisa's life across the screen. Tomoya stopped running away, and as he turned back to find himself he rediscovers the entirety of Nagisa's imprint upon his soul. When Tomoya finally brought Ushio home to visit his father, it almost felt like Nagisa has at long last completed a circle in Tomoya's being, even though she was no longer physically there. It was Clannad's spin on the traditional "she lives on within him". In fact Tomoya's final redemption felt like the completing of many circles, small and large, from all the people he had interacted with, whom he had helped, and who had helped him, and through whom all he was able to at last understand himself and know his way forward. The Tomoya that found happiness and catharsis was Tomoya plus the sum of significant people in his life. There is little concept of destiny or calling or fate in Clannad's universe – it is all people. Tomoya's life was people. A possible interpretation of the ending, of Tomoya's decision that he wanted to meet Nagisa knowing all that must come to pass, could be as thus: it isn't about what happens in the end, everything that has happened throughout his time with Nagisa and Ushio didn't become pointless because both eventually died. Tomoya was who he was because of his life spent with his wife and daughter. He lived and felt happiness, and that living was worth it. Better to have lived and laughed and suffered and lost than to have never truly lived before. For a life without the people important to it wasn't true living in Clannad's valuation.
Incidentally, if that sounded like something Yoshino would say, that's probably no accident. Yoshino is an interesting character. I feel like he is to Clannad something like what Akari is to Aria – possibly the person most connected to the core ideas of the show, yet lacking the social tact to avoid sounding embarassingly funny. But listen to the stuff this man says. He puts it in the most straightforward, cheesiest of ways, but he knows what is going on.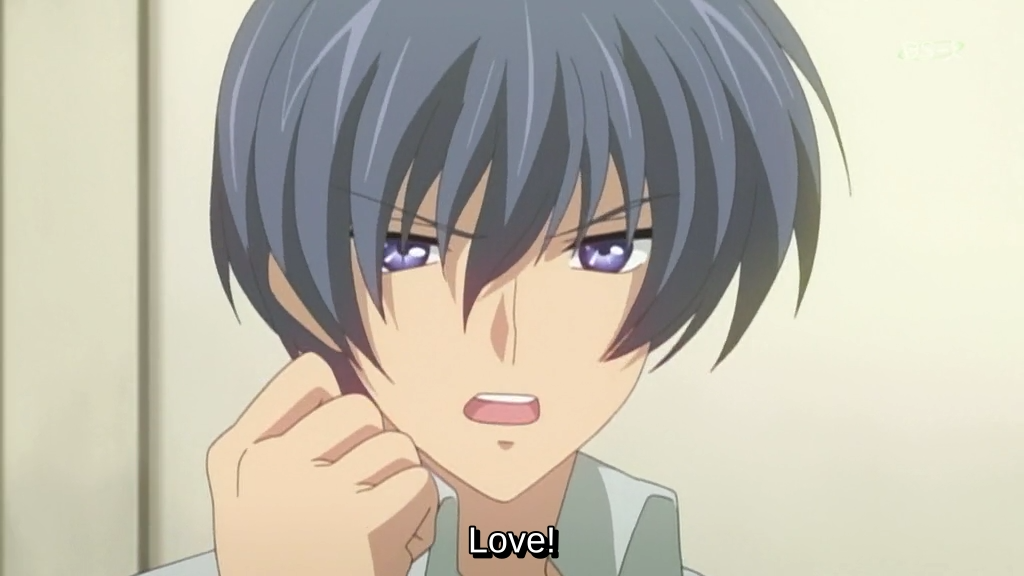 Clannad goes so far as to underscore "People over World" by portraying an unfeeling and cruel world behind the characters. In contrast with, for example, Air, which hints at a trace of kindness in the way fate worked, Clannad's world killed Kotomi's parents, killed Yukinee's brother, killed Nagisa, and then killed Ushio right when Tomoya had finally reconciled with her – all for no apparent reason. As I mentioned in a previous post, I think this has something to do with Clannad's model of the world: it is unreasonable. There is no reason to tragedy. With this Clannad sets up a sort of "people versus world" model of reality, where there is no greater world order and tragedies happen just because, and where people close ranks alongside people, and create their own joy, their own meaning, and their own miracles. Unsurprisingly, people lie at the heart of virtually every positive development in Clannad. Even the floating lights that brought about the final miracle – the "true end" – are wrought of people helping people to achieve happiness. And underneath all this is a principle of sorts, something that I call Clannad's "Philosophy of Doing".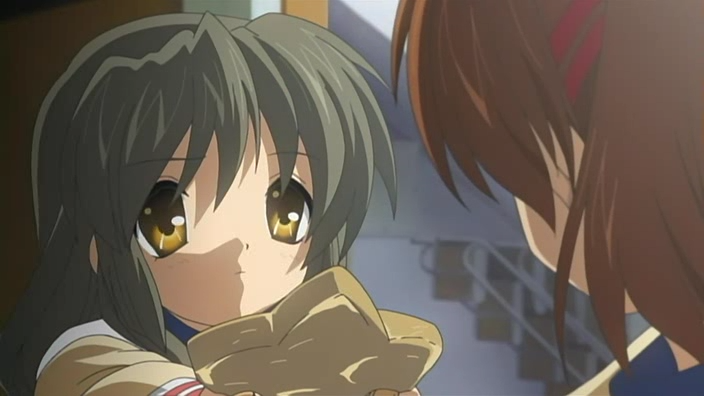 Interestingly enough, "just jump in and do something" is also something of a recurring theme in Clannad. Whenever confronted with a difficult situation, the characters invariably find themselves something to do – some more calculated and sensible than the others – and then sets about it in earnest. An early example is Fuko's starfish distributing. As many people probably legitimately complained, making and distributing starfish is kind of a dumb and random thing to do and to get worked up over, but it's hardly the last random thing onto which our characters pounce. When Kotomi shut herself in and refused outside contact, Tomoya decided that he was going to spend days and days cleaning out her yard. When Mei was worried about Sunohara, she decided to beg and do everything she could to get the soccer team to let her brother play again – when her brother showed no sign of wanting to do so – with Tomoya and Nagisa in tow. And in Mei's case, it didn't even really work out, and yet the happy end for her arc did come as almost an endorsement of her actions. Clannad seems to be advocating this: whenever someone you care about is in trouble and neither you nor him/her seem to be able to sort it out, well, do something anyway. Find something you can do, and do it. And in light of all the above discussion, there may be some sense to this. In fact the way it often works in real life is that you often don't know if something you're doing will work out, and dedicated efforts sometimes lead to nothing whereas sometimes something offhand and random, or even unintentional, ends up making a big difference. So the idea is not to hold back on doing something just because you don't think that it'll work, because you never know when something you do could make a world of difference to another person. So do something – anything – whenever you have the chance. Even if you do a million useless things and then do one thing that mattered, that one thing would be worth it. My favorite example of that one thing is when Mitsui, having rudely turned down Fuko's starfish offer once, walks up to her again, said she would try to attend the wedding, and told her to do her best. That obviously meant the world to Fuko. In Clannad's model of the world people have only other people to count on for support, and so there could be a time when the difference between someone being able to move on and find fulfillment could hinge on a simple action you could choose or choose not to do. So always choose to do. Never hang back.
And with that we come full circle: People matter. People define who we are. People are their own sources of inspiration and joy. And so go forth and do things, do things for people. And in the multitude of all things done for people some will strike home and create a miracle, a trace of wonder in an unfeeling world. Notice the way Clannad portrays this: when something strikes home and happiness is achieved, that's an orb of light, a small miracle. And the sum of a sufficient number of orbs of light converge to create a great miracle. Great change is possible if and when sufficient people move to make their small changes. It is an empowering philosophy, one that emphasizes the capabilities of humanity over the other uncontrollable currents of our world. It tells us to move, and to care, because it is not meaningless, and because it can change things. Fate or destiny doesn't come into this. We are responsible for the quality of our lives, the happiness and fulfillment of those who depend on us and those on whom we depend, and the sum of happiness in our world.