And so not to be out-awesomed and outdone by Eri Uri, I have also decided to give my blog a makeover!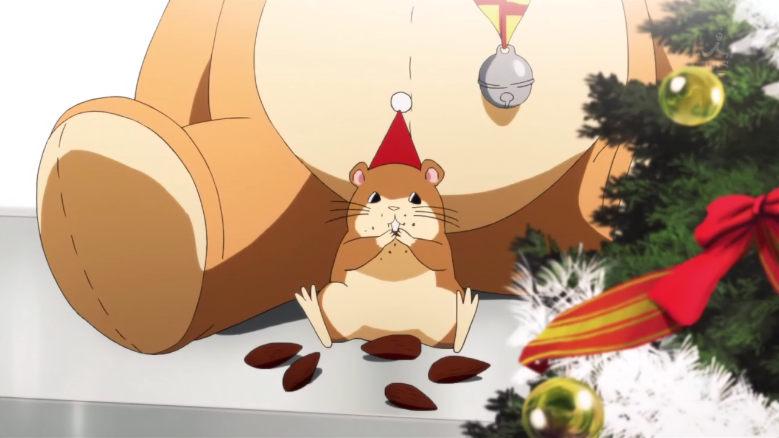 Hamzou says Not Bad
Oh who am I kidding, the new Neonovic has got more bells and whistles and tinkerdust than a confetti-showered parade of Christmas trees, well beyond anything I can hope to match, especially in a day (and yes, that means it's awesome and you should click through to check it out, even if the last post was dated October). So what's up with the makeover then? What was wrong with the old theme? What's awesome about the new? Nothing and nothing much, really. The old one's just been alive for far too long, and the yellow-orange motif was beginning to look like withering parchment to me, and so I decided, having recently returned from snow-covered Hokkaido, to switch into a cozy dash of white and blue. And so et voila. Everything is pretty much arranged to work like the old theme, except I finally caved and decided to support threaded comments. Hope the new look is a breath of fresh air though. I at the very least find it quite pleasant, and seasonally apt too. Of course, little teething problems and issues might still lurk around little dark corners, so if something breaks or misbehaves, just drop me a comment.
Anyway, it's nearly Christmastime! And with it becoming increasingly clear that my next editorial isn't going to make the next two days, I did the next best thing – I wrote this post :P Well, I guess an Anisong post is kinda better in the way of a season greeting anyway. Here's "Attaka na Yuki", or "Warm Snow", which was a Christmas-episode insert song by Miki, Yayoi and the Futami twins in the Idolmaster anime. Now that's a show I've been enjoying somewhat more than I expected to. In a sense the Idolmaster anime is somewhat like Christmas. There's plenty to complain about if you're set on complaining. Strawman villains, moe-mongering, manufactured drama, just like how the cynics would tell you Christmas is a capitalistic farce where the name of the game is to tell your loved ones you love them by spending lots of money. But just as Christmas is also (is more, I'd argue) about giving, about sharing and cheer; you could say the Idolmaster is really about the cocktail of positive themes that form the core of its storytelling: positivity within adversity, pursuit of a dream, comradeship, and danketsu, as Keiri would put it. And while there are points in which things get a little contrived, and points where more tender loving care for character development could be desired, they are counter-balanced by the handful of moments where the show manages to hit strong, evocative highs. All in all it's a pretty enjoyable watch, and the long history of the franchise also translates into a lot of depth in terms of inside jokes and fun little seiyuu intrigue, but I'll refer you to Keiri-the-veteran's blog for more of that.
As for here, as usual, you can hit the jump for romaji lyrics, translations, and a picture, and hit the F8 key to listen to the song while it's up. Hope you folks had a great year, and enjoy Attaka na Yuki.
Merry Christmas and a Happy New Year from Between Linux and Anime!
(PS: Speaking of the Idolmaster…)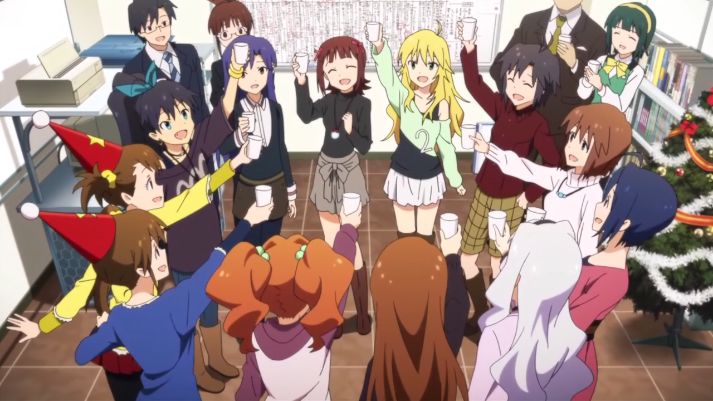 Lyrics
Attaka na yuki wa
hitori hitori no kimochi
kokoro kara wa kokore he to
watashi kara wa anata he

fuwa fuwa
furidasu shiroi yuki
ryou te wo utsuwa ni shite
hitotsu tsukanda
fure tara
tsumetai shiroi iki
anata wa waratte
te nigitte kureta

yasashii nukumori
tebukuro mitai da ne
yuki wa tokete kieta

samui fuyu dakara
zutto issho ni iyou
nagai fuyu dakara
motto yorisoi aou
soba ni ireru yorokobi
deaete attakai

attaka na yuki wa
samui fuyu no kurimono
attaka na yuki wa
hitori hitori no kimochi
kokoro kara wa kokore he
watashi wa anata he to

Holy winter season
Twinkle winter season
Holy winter season
sei naru ima
Twinkle winter season
saa sachiare
Translation
The warm snow
Are each individual feelings
From a heart to a heart
From me to you

Soft and light
The falling white snow
I cupped my hands
and caught hold of one
As I touched it
There was a cold breath of white
You were laughing
And took hold of my hand

The gentle warmth
Is like a mitten isn't it
The snow melted, and was gone

It's a cold winter, so
Stay together with me
It's a long winter, so
Snuggle closer with me
This joy of being together
Meeting is so warm

The warm snow
Are a cold winter's gift
The warm snow
Are each individual feelings
From a heart to a heart
From me to you

Holy winter season
Twinkle winter season
Holy winter season
This sacred moment
Twinkle winter season
And best wishes to you!
Romaji Lyrics transcribed from Kanji here.
Translation by me, referencing subs by Chibiki.