For most people this song probably needs no introduction :) This is a piece I have fond memories of. I watched the entirety of the first Darker than Black late at night, and the silky, swaying tune of Tsukiakari, accompanied by the soothing image of a quiet, star-gazing Yin amongst the white flowers, invariably proved to be an apt and comfortable curtain-fall.
I don't know if it's the lyrics, the tune, the accompanying visuals, or the fact that it is always late at night when the song played, but I've come to really associate this song with moonlight. Every now and then in the apartment room I currently sleep in, a bright moon would cast it's rays straight through the window onto my bed, and invariably as I sink into the covers bathed in that glow this song would start playing in the back of my head.
Moonlight is a strange thing. Even knowing full well that it is nothing but unremarkable sunlight reflected back at us by an inanimate celestial body, I can't help feeling it draw a shower of mysticism over me. Of course, being highly sleepy at the time helps :)
Anyway, enough random banter! Without further ado, I give you Tsukiakari (that's "Moonlight" by the way), the ending theme to the first season of Darker than Black. As usual, hit f8 to play the song, and hit the jump for a pic, romaji lyrics, and translations. Enjoy :)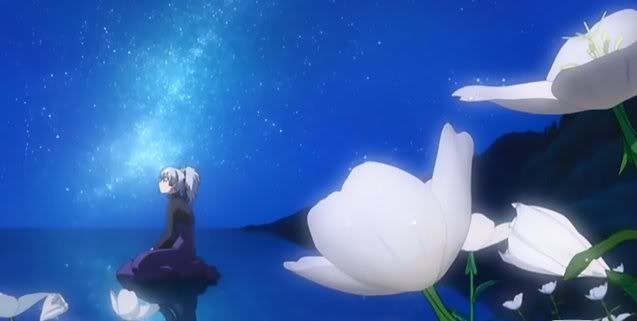 Lyrics
Aoi aoi sora ni tsuki no hikari o tomosu
Amaku awaku omoi sonna mono ni torawarete

Kono tsukiakari no shita hitori shirezu
Kimi no namae dake o yonde ita
Itsu made mo mirai o sagashiteta
Kono hikari no

Nani mo tsukamenai you na yoru ni wa
Kimi o omowanai toki wa nai
There isn't a day I don't think about it
Mayou kokoro ga kimi ni todoku you ni

Kono tsukiakari no shita de watashi no namae o yonde
Tashika ni ai ni yuku yo doko de mo
Kono hikari no naka ni
Translation
Upon the blue, blue sky. I lit the light of the moon.
Sweet, faint, feelings. I am a prisoner to these things.

Here underneath this moonlight, unbeknownst to any one
I called out only your name
Ever always, I searched for a future
Within this light…

In the night where it seems I can't hold on to anything
There isn't a moment that I don't think of you
There isn't a day I don't think about it
That this lost heart may find it's way to you.

Here underneath the moonlight.. Call out my name..
I will surely go to meet you, it doesn't matter where
Within this light.
Romaji Lyrics taken from Gendou's Anime Music.
Translation by me.