Whew! Been bogged down with work thanks to my making the age-old mistake of overpopulating my todo list just because it's holidays. I gotta remember that my work efficiency actually decreases during Chinese New Year due to all the customary hometown visiting and what not. And then there's that insane, unspeakably hot weather.
So anyway, while I sort through my own stuff and strive to deal with the remaining work (as well as squish the backlogs that have taken the opportunity to pull a full-fledged resurrection), here is an anisong for you in the meantime!
Kannagi's Musuhi no Toki had been somewhat overshadowed during the show's broadcast by the really catchy OP as well as the general hilarity and win-barrage that defined the series, but I think it is really quite the lovely, soothing song. It can be nice to listen to songs like these every now and then, to sort of slow us down a little, and perhaps increase our relish for life :)
So! Without further ado, here is Musuhi no Toki, ED to Kannagi, and, as I just found out, performed by Haruka Tomatsu herself! As always, hit F8 to play the song while it's up, and hit the jump for a pic, lyrics, and translations. Enjoy!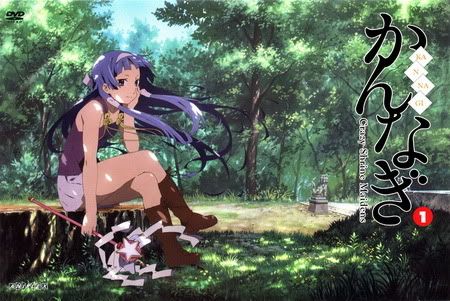 Lyrics

amatsukami kunitsukami yaoyorozu no kamitachi tomo ni
kikoshimese, tsumi to ifu tsumi ha araji to
takayama no ihori hikiyama no ihori wo kakiwake
kikoshimesamu, tsumi to ifu tsumi ha araji to

nahoki magokoro mochite michi ni tagafu koto naku

itoshi itoshi waga ko yo
sukoyaka naru inochi wo tomo ni chikaishi mori ni
yasuragi tamae
nagi tamae
towa no toki wo kizamu mori ni
Translation

The gods of the skies, the gods of the lands, together with all the many gods,
Please listen; all sins shall be forgiven.
The clouds of the high mountains, the fog of the low mountains, breaking through the fog,
They listen, all sins shall be forgiven.

Hold an upright, true heart, stray not from your path

Beloved, beloved, my dear child,
In the forest where we pledged a life of health
Seek peace,
Seek harmony,
In the forest engraved upon time eternal
Romaji Lyrics from Gendou's Anime Music.
Translation adapted from Gendou Anime Music.